Blue Spirit is a Dutch company that designs, builds and distributes Rigid Hull Inflatable boats (rib boats) for the professional offshore market. As part of Euro Offshore BV, the experienced personnel of Blue Spirit have over 15 years of experience in building patrol and rescue rib boats.
All Blue Spirit rib boats are produced in Holland and because of this Dutch craftsmanship, we deliver the best design, quality and price in the market.
Blue Spirit Patrol
The Blue Spirit Patrol rib boats are available in a outboard version, inboard aft or inboard centre mounted engine. Propulsion system options for the Blue Spirit ribs are either sterndrive or waterjet.
Blue Spirit Line
Blue Spirit Line Rib boats specifications
All rib boats produced at Blue Spirit are made of strong GRP hulls and have optional non wood and vacuum injection. The foam tubes can be either Hypalon air, Hypalon foam or PU foam. The Blue Spirit rib boats will be delivered with a CE approval and warrantee regulations.
Euro Offshores produces the following Blue Spirit Line rib boats (For more information per Blue Spirit Line boat, please click on the links below)
Blue Spirit Open Line (OP)
All Blue Spirit Open Line (OP) rib boats have a Hypalon air collar and are vacuum injected. 3 Models are available; OP40, OP60 ,OP80,OP90 and OP100 and they vary in size from 3.55 till 5.70 meters. The Blue Spirit Open Line rib boats have a capacity of 8 to 14 persons. The Open Line rib boats come standard with non-slid deck, lifting eyes, drain plugs in hull and from deck, lifelines and many.
Blue Spirit Sport Line(SP)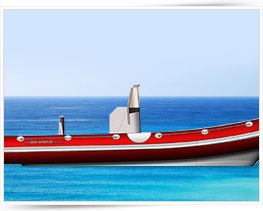 The Blue Spirit Sport Line (SP) are available in 3 rib boat models; sport80, sport90 and sport100, with lengths varying between 4.90 and 5.70 meters. The capacity of the Sport Line rib boats are between 8 and 14 persons. All rib models of Blue Spirit Sport Line come with a Hypalon Air Collar, steering console, seat arrangement and are vacuum injected.