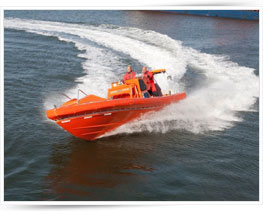 The International Convention for the safety of Life at Sea (SOLAS)of 1914 dictates that every ship needs to carry rescue boats. Since then the development of rescue vessels has seen a tremendous innovative growth. New developments in boat design and materials helped to improve speed and durability. Which in turn gave rescue services, as the police and coastguard, a powerful tool to perform their tasks.
The rigid Fast Rescue Boats (FRB's) are primarily used for SAR/MOB operations, because of their fast response time and big capacity. They can also be used for crew transfer, inspections, patrols and so on. Because of their deep V-shaped hulls they have excellent performance on sea, even at high speeds.
The Fast Rescue Boats produced for Euro Offshore comply with the latest SOLAS requirements and LSA code. We produce FRB's with a capacity from 8 to 16 persons and with top speeds from 22 knots to 30 knots.
We offer a wide range of inflatable or semi-rigid boats for the emergency services, rescue agencies, commercial shipping companies and other organisations who need work / rescue / sports / safety boats.
Available in a wide range of sizes and equipment-configurations, and with SOLAS/MED approval/compliance where appropriate.
Manufactured in Germany by Deutsche Schlauchboot GmbH, one of the most experienced manufacturers in the world for life-saving equipment for civil and military use.
In fire and rescue work, the emphasis is usually on the rescue part. More than 90% of calls are to get people out of trouble. That often means going out in water too rough for most small craft, in low visibility and high wind, which puts a premium on BCGP's Impacts and Whalers because of their superior lateral stability, sea keeping capabilities and flotation. Even if they take water over the bow, they drain and keep going - so a rescue operation doesn't end up with the rescuers in the water.
Impact RHIBs are popular rescue boats because their inflatable collars reduce the risk of impact or injury in a recovery situation in high wind and waves.
On the other hand, rescue doors on fiberglass Whaler hulls make it easy to get victims into the boat or divers in and out of the water. The deck is just four inches above the water, so personnel don't injure their backs trying to pull a couple of hundred pounds of weight over a two-foot gunnels. And rescue rails keep victims and divers in close contact with the vessel and out of danger of the props.
When you actually have the task of fighting a fire, BCGP has you covered. We offer an extensive array of marine pumps, lights and electronics to get you to the scene so you can do your job.
BCGP fire/rescue boats meet a wide range of requirements for coastal, inland lake or river applications. You can get a turnkey boat with all the options you need or a basic platform ready for you to add your own equipment.